Trong likely to be preserved as a heritage village September 21, 2015 Featured 1 Comment 3,875 Views Culture: Preserving traditional stone masonry houses in Trong, Zhemgang might be financially unrewarding for its owners but these houses are a treasure-trove of Bhutanese architecture, according to researchers from Chiba Institute of Technology in Japan. "It is special, unique and beautiful not only the houses but also the way everything in its surrounding is used to suit the topography of the landscape," associate professor, Akiko Yoshimura who is leading the study of Trong village said. The associate professor said that landscapers from the institute also found every element around the village being used for the village's benefit. For instance, every plant in the surrounding areas is found used for reinforcing the footing of the houses on a steep topography. Prof Tetsuo Furuichi who led the research until 2013 states in a publication on traditional Bhutanese houses published recently that the rammed earth and traditional timber construction techniques certainly breathes architectural splendor. "But the real surprise was the continual discovery of wisdom underlying in Bhutanese architecture such as wisdom of living with nature formed over a long period of time," he states, adding the strong sense concealed within the lifestyle created through the skillful use of materials, natural airflow and light alludes a large hint for saving the environment from the continuous destruction of voluminous carbon dioxide. Chiba institute has been studying traditional Bhutanese houses since 2009 in collaboration with the works and human settlement ministry (MoWHS). Akiko Youshimura succeeded after Tetsuo Furuichi retired in 2013. The institute earlier surveyed villages such as Changjiji, Babesa, Shari in Paro, Kurje and Jakar in Bumthang and Shazam in Trashigang. Through its six surveys, recommendations were proposed in design, community building and collective housing, preserving plans and passing down of traditional housing to future generations to the government of Bhutan and MoWHS. This month, the institute with MoWHS surveyed Trong heritage village. Trong is an array of over 20 traditional stone masonry houses clustered neatly on a tiny hillock overlooking the imposing Zhemgang dzong. While little is known or documented on the origin of Trong and its vintage traditional houses, the villagers date its existence for over 100 years now. Neither the village's eldest citizenry, Rinzin, 99 or his parents remembered when the houses were built. "But what I remember is even my grandparents lived in the same house, which is still standing tall today," Rinzin said, adding that although some extensions were done, chief stone walls haven't needed any repair from dilapidation or damage from earthquakes. MoWHS architect, Yangchen Lhamo said it is difficult to trace the history of Trong from lack of written or oral documents. "But we could possibly presume that the settlement started along with the construction of Zhemgang dzong dating back to 1655," she said. Rinzin said the most striking feature of houses in Trong is its resistance to earthquakes despite them being built on rocks without a proper foundation. The institute is also surveying the topography of Trong using drones, which would enable creating 3D images of the village. "Topography survey would enable recording wisdoms from the Bhutanese houses of what features can be used in what topography," Akiko Yoshimura said. The institute's lecturer, Hideaki Kawasaki is processing the 3D image from over 1,000 drone footages.
Trong Gewog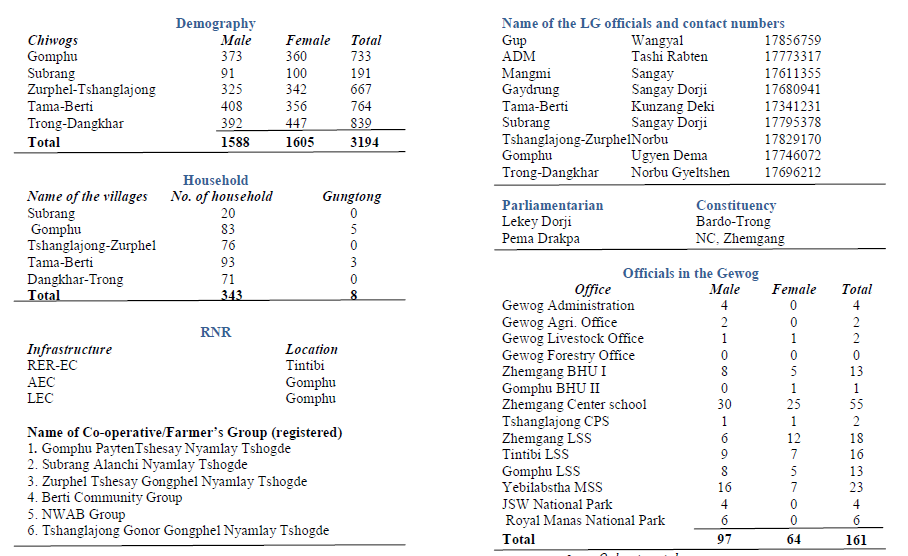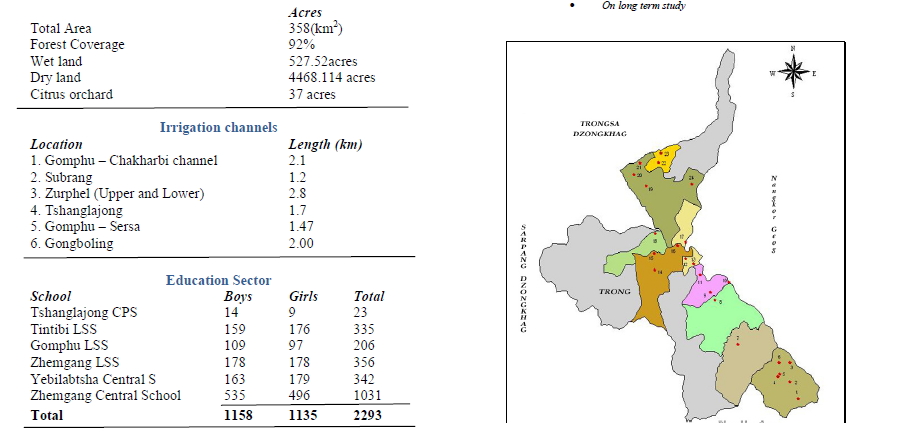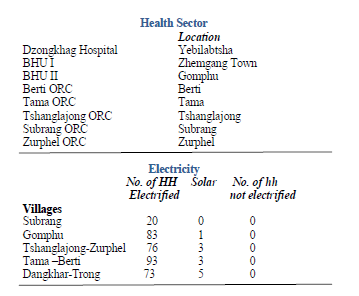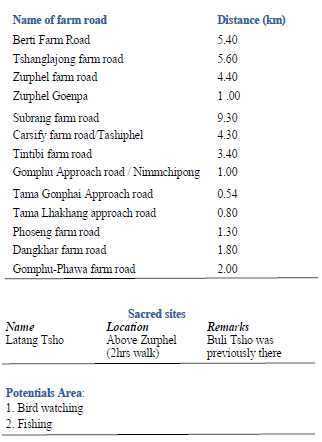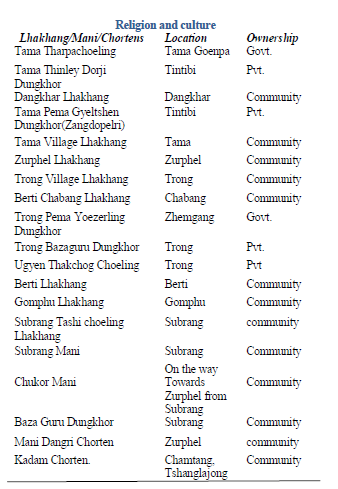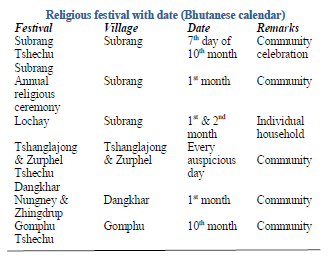 Brief History of Gewog
The Gewog administration is located at Tingtibi by the side of high way to Gelegphug and Trongsa. The name of Gewog derived from two local syllables 'Tinti' meaning depth 'Bi' meaning a piece of flat land. A satellite town is also established in the year 1991The Gewog Centre is 35 kms away from the Dzongkhag Administration and lies at an altitude of 500-620 meters above the sea level with extreme type of climate, very hot in summer and cold in winter. The Gewog is partly covered by two wildlife corridors viz the Royal Manas National Park and the Jigme Singye Wangchuck National Park. Out of the eight Gewogs, Trong is considered as one of the prosperous gewogs because of its proximity to the National High Way and farm road accessibility to all five chiwogs and villages.
Trong falls within the Zhemgang Dzongkhag town area. The word Trong as per the local dialect means to assassinate.  A renowned religious practitioner and reincarnation of Lam Shacha Yoezer known as Lam Zhang was assassinated by local residents, thus deriving its name for the area.
Dangkhar is just below the Dzongkhag town area. It was earlier known as Dhakhar, which according to local dialect "dha" means signal and "khar" meaning place. The local residents were responsible for passage of secrete information for the assassinating of Lam Zhang, thus deriving its name.
Zurphel is located on a sloppy terrain above Panbang High way. In the local dialect, it was earlier Zurbay, 'Zur' means side or corner while "bay" meaning place of paradise, village was named as it is said that the parts of Bayuel are being shared by the village.
Tama is located on a high way to Gaylegphug overlooking Mangdechu with good forest coverage. 'Ta' means Tiger in the local dialect. It is believed that the population of tiger was dense in the area, thus deriving its name.
Gomphu is located by the side of Panbang High Way on a gentle steep terrain with small hills above. As per the local dialect 'Gom' is meditation while 'Phu' refers to hills. The local residents and religious practitioners from other areas visited this area for meditation, thus deriving its name.
Subrang is earlier known as Sibrangma and located above Panbang High Way. As per the local dialect 'Si' means a kind of wild bee while 'Brangma' refers to honey. It has now changed from Sibrangma to Subrang.
Tshanglajong was known as Tshamlajong, which in local dialect means 'Tsham' border, while 'Lajong' refer to unification. The two warring factions viz Tshanglajong and Tintibi came to consensus for unification, thus deriving its name.