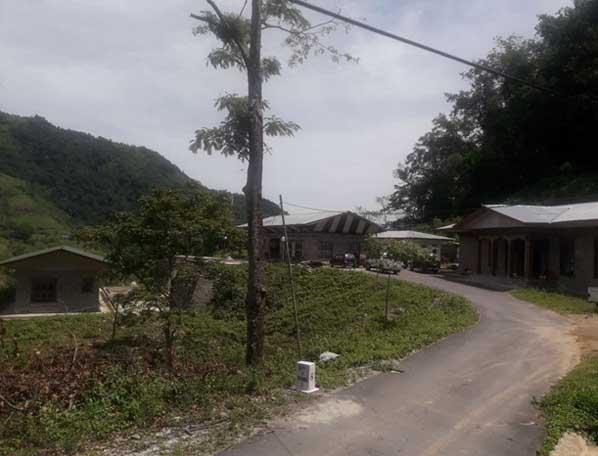 Background:
Goshing is one of the farthest and least Developed Gewog under Panbang Dungkhag in Zhemgang Dzongkhag. It has an area of an approximately 99.11 square km and it is situated 4 days walk (when there is no road connectivity) or almost 107 km away to the south east of the Dzongkhag Headquarter, Zhemgang. And also it is situated at least 35 km to the south –west of Dungkhag Administration, Panbang. It has an elevation ranging from 250 meters-1100 meters above the sea-level. The climate is moderate and has sandy loamy black soil which is favorable for cultivation of different varieties of food crops and vegetable as well as all kinds of fruits. The climate is very hot in the summer and cool in winter and receives a maximum rainfall from mid may-mid August months. The Gewog has 6 villages composing into 5 chiwog and the total population is around 3090 with 230 households including 5 Gungtongs.
Economically, the people of the Goshing Gewog are quite backward and their livelihood mostly depends on agriculture and livestock farming. They grow oranges, cardamom, Ginger and various fruits as their main cash crop that generates cash income for the households. Besides Agriculture and Livestock Farming, every household owns at least a horse for transporting their goods and also for cash generation through potter charges. But with development being taking place and with every chiwogs being connecting with farm road service year after year, the number of horse decreases yearly and people opt for purchasing of Bolero cars. There are around 10 boleros in the Gewog today.  Maize is the staple crop the people grow for living.
Infra-structurally, Gewog has two Primary schools (Goshing and Budhazhi), Gewog office, RNR extension Centre, BHU grade II, 4 ORC, initially 7 Non Formal Education Centre but since all chiwog were covered, no NFE centers at present, 5 Lhakhang established at different places and 2 ECCD Centre at Lamtang and Lingmapong. The people take advantage of these facilities by availing the required services from them. A community information Centre which is constructed recently provides services like printing, Xerox, passport photos, scanning, lamination online services, Birth and Death Registration, binding, Household information and most probably, one month basic IT courses are offered to the people especially the youth.
With regard to transport and communication, Gewog is connected with road network via Panbang-Tingtibi highway; almost all the chiwogs and villages have one or more farm roads that have the utmost benefit to the people. With instituting of bus service between Panbang-Gelephu, most of the community avails the bus services conducted by the Dungkar Transport. Farm road networks are also available from lamtang to Mewangang chiwog, Tingtibi-Panbang highway to Selingbi, silingbe-Yongkorpong and Wangling under Budhazhi chiwog, Goshing Trong-Lechibe via Lingmapong, Lingmapong to Drangling and Karseng under Samcholing & Lingmapong chiwog. New farm road measuring around 8.04 KM from Lechibe-Amdha is under construction. 
Of the two mobile networks provider in the country, only the B-Mobile network services are available in this Gewog but some far flung places like dumati, drimjang…etc are facing the problem of network coverage. Almost all the chiwogs have been electrified and people enjoy happily with power services but few household (9) falling off grid of the power line doesn't have access to power supply BUT they were provided with solar facilities for lighting their homes.  
Gewog Statistics
Area                                                    99.11 Square km
Forest coverage                                  78%    
Chiwogs                                                 5
Villages                                                 6 (75)
Households                                        230
Total Population           3090 (Male-1536, Female-1554)
Designation                          Names of the members
Gup:                              Sangay Lethro

Mangmi:                        Pema Samdrup

Budhazhi Tshogpa:       Chophel

Lamtang Tshogpa:        Zangpo

Mewangang Tshogpa:   Drakpa

Samcholing Tshogpa:    Sonam Zangpo    

Lechibi Tshogpa:           Pema
Civil servant working under goshing gewog Administration:
                         Name                                    Position
Sherab Gyeltshen                          GAO

Thukten Yonten                              Gewog Ranger

Dorji Leydra                                    Agriculture Extension Officer

Rinchen                                          Livestock extension officer 

Laxmi Kanta                                    HA

Kinzang Thinley                              Drungtsho

Sonam Wangchuk                           HA

Kelzang Dorji                                   Ranger, BEAT office, Goshing

Dophu                                              Care-Taker (Gewog Centre)

Sangay Choizom                              Gedrung

Sonam Norbu                                   Driver

Kunzang Tenzin                               Principal, Goshing Primary School

Sangay Wangdi                                Teacher, ,,

Kinga                                                Teacher, ,,

Karma Wangdi                                Teacher, ,,

Dawa Rinchen                                Teacher, ,,

Kinley Dem                                     Teacher, ,,

Choki Wangmo                              Office Assistant ,,

Rinchen Lhazom                            Care Giver/Matron

Pemba Tshering                          Principal, Budhazhi CPS

Kinley Dorji                                 Teacher ,,

Damcho Dem                              Teacher ,,